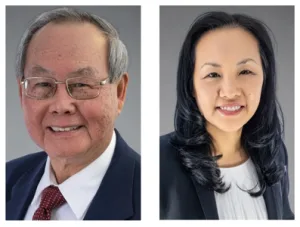 After founding BTI in 1988 and successfully leading the company for 35 years as President and CEO, Dr. Harry Ing announced his intention to step down from his executive role and transition to a part-time role as Special Advisor, where he will focus on research and scientific mentorship. He will continue to serve as Chair of BTI's Board of Directors. Current Vice President, Lianne Ing, will assume the role of President and CEO, effective April 1, 2023. The transition was announced at a company-wide meeting.
In his remarks to the company, Dr. Ing noted that he began his research career in 1969 and started BTI in 1988 as the first commercial spin-off from the Atomic Energy of Canada Limited. "I spent the next 35 years growing the company. I was not sure BTI was going to be a successful venture…however, looking back now, I can say that BTI has survived and thrived. Much of this is due to the many talented and dedicated staff at BTI that I was fortunate to have and this continues today."
Ms. Ing also addressed the company, noting that "BTI's success can be chalked up to great people and, I would add, a lot of grit…the success here has been through a whole lot of hard work and an equal dose of creativity to hammer out solutions to seemingly impossible problems". She also indicated that "after having been with the company for 20 years already, my goal is to spend some time looking ahead and figuring out what we need to be working on today to ensure the company continues to be successful over the next 20 years". She reinforced the company's purpose, underscoring that "we are here to use our collective skills and talents to put science to work, to make the world a little bit safer, and to make the universe a little less unknown".