Canadensys Lunar Rover Team Announced
The first ever Canadian lunar rover mission is planning for a 2026 landing. After completing several multi-year contracts to conduct lunar rover mission studies, develop key technology components, and designing, building, and delivering to the CSA a prototype of the lunar rover, Canadensys is now executing the Phase A conceptual design of the flight program for the Canadian Space Agency (CSA).
The Canadensys led Canadian lunar rover mission team is comprised of Johns Hopkins University Applied Physics Laboratory, NASA Ames Research Center, NGC Aerospace, Maya Heat Transfer Technologies, Nokia, Bubble Technology Industries, Waves in Space, Simon Fraser University, Avalon Space, Western University, the University of Winnipeg, l'Université de Sherbrooke, Centre des Technologies Avancées, Leap Biosystems and Surrey Satellite Technology. The team's scientific investigators are among the leading lunar researchers in Canada and the US, and are affiliated with the core team organizations as well as Arizona State University, Southern Methodist University, the University of Alberta, and York University.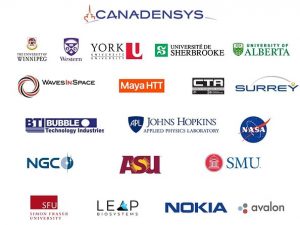 Bubble Technology Industries is pleased to be part of this collaborative team of Canadian and US partners.  More information can be found in Canadensys' news release and in SpaceQ's exclusive coverage.