Lianne Ing appointed Honorary Colonel for the 427 Petawawa Squadron
Lianne Ing, Vice President of BTI, assumed the role of Honorary Colonel for the 427 Special Operations Aviation Squadron on July 12th, 2018. Based at Garrison Petawawa, the 427 Squadron provides aviation capabilities to the Canadian Special Operations Forces Command, as well as support to other Canadian Armed Forces operations. Through her voluntary role as Honorary Colonel, Ms. Ing will serve as a bridge between the squadron and the public for her three-year term. She will provide counselling and mentorship, as well as advising the squadron's senior leadership, when requested.
Having served more than 15 years with Bubble Technology Industries, Honorary Colonel Lianne D. Ing also serves on the Board of Directors for the Canadian Chamber of Commerce and is an active member of the Chamber's Small & Medium Enterprise Committee. She is also currently serving on the Public Services and Procurement Canada Supplier Advisory Subcommittee on Supplier Relationship and Performance Management.
In the image below from left to right are: outgoing Honorary Colonel Del Lippert, Squadron Chief Warrant Officer Dan Landry, outgoing Commanding Officer Lieutenant Colonel Clay Rook, and Lianne Ing as she was sworn in as the new Honorary Colonel for the 427 Squadron at Garrison Petawawa.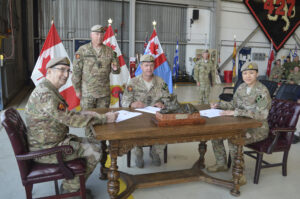 Photo by Bruce McIntyre, courtesy of the Eganville Leader