Results from Measurements on ISS to be Presented at WRMISS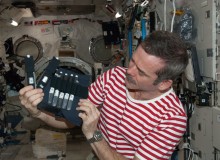 BTI will be presenting recent results from the Matroshka-R and Radi-N2 experiments, which measure neutron radiation on the International Space Station using BTI's Bubble Detectors, at the upcoming Workshop on Radiation Monitoring for the International Space Station (WRMISS). The workshop will be held from September 9th to September 11th, 2014 in Krakow, Poland.
If you would like to meet with a BTI representative at WRMISS, please contact us at info@bubbletech.ca.
For more information on the 19th annual WRMISS , please visit the WRMISS 2014 website.
Photo courtesy of NASA.